Bohemian Aztec Range has been inspired by the exotic Gypsies who adorn themselves in colour. For me the world of nomads and their accessories have always fascinated me and so this collection was born.
The History; The more oversized more colourful your statement piece the more you stand out from the crowd, these often have been worn by women in Tibet and Nepal. They often have a spiritual meaning behind them some Sanskrit carvings and symbols, these are all handmade and made by women so their rustic uneven beauty is to be appreciated. Like all handmade and not Perfect like machine made products. They are made Using copper and silver with turquoise coral and lapis lazuli inlaid and beading. There is a belief that these jewellery pieces are to protect the wearer much like an amulet. The local makers are a family named Sunar which is taken on culturally and that has been passed on for many generations from the villages. I hope you enjoy the beautiful pieces as much as I do.
*Please note that all shipments will be sent out on Tuesdays or Fridays.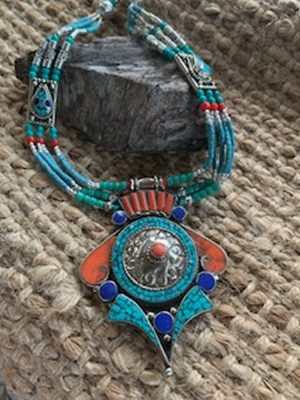 $

120.00